The Replenishment Move Order
The Replenishment Move Order is created by Oracle Inventory through any of the following replenishment planning methods:
Min-Max planning
Replenishment counting
Kanban replenishment
Pre-approved move orders are created to source material from one location to another within the same inventory organization.
---
Have You Tried ...
The Start to End Video Guide to Implementing Oracle Inventory in R12?
Try this FREE Download First!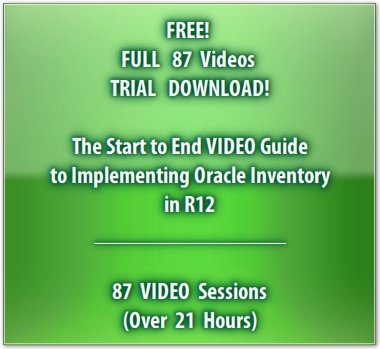 This version will help you explore and review the COMPLETE Video Tutorial... ALL 87 videos, for 1 Trial and 1 Day.
Once you like the Tutorial, select from any of the Subscription options here, to get your copy of the eLearning Video
---
The Next Demo from Jennifer
Next in the series of demonstrations that Jennifer is conducting for the folks at Office Smart Solutions (OSS), she decides to use Kanban to trigger a move order for inventory replenishment.
The Pull Sequence
Jennifer has to start with defining the Pull Sequence shown below.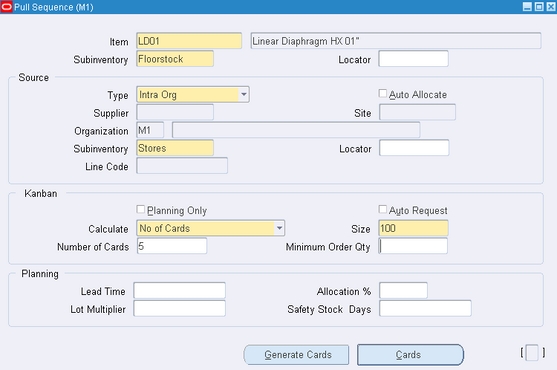 She selects the M1 inventory organization in the Vision database for her demo. She also selects an item that has abundant on hand balance in the Stores subinventory but zero stock in the Floorstock subinventory. So she selects Floorstock as the destination subinventory and Stores as the Source.
She then proceeds to create 5 kanban cards of 100 quantity each. To bring these cards into existence she clicks on the Generate Cards button. Oracle Inventory then generates the 5 cards as shown below.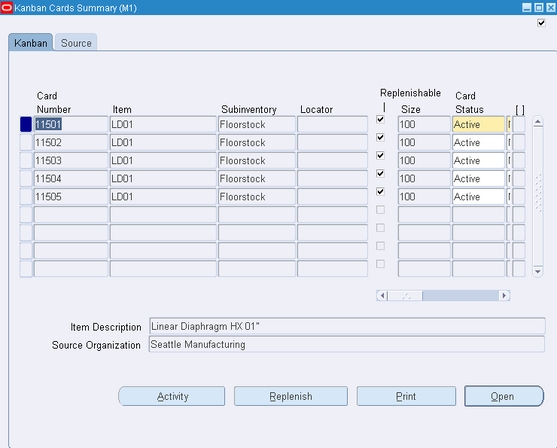 Replenishing a Kanban Card
Jennifer pulls up the 5 cards that she created. She selects the first of them – Card Number 11501 and chooses to call for a restocking of 100 units of the Item LD01. She clicks on the Replenish button. This creates a pre-approved Move Order for 100 units of Item LD01 to be sourced from the Stores subinventory and to be moved into the Floorstock subinventory.
Jennifer directly approaches the Transact Move Orders screen and queries for the Move Order as shown below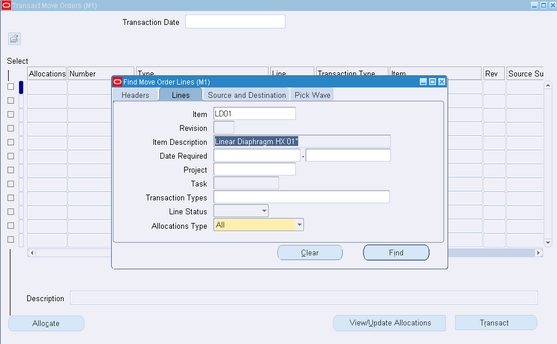 She retrieves the Move Order. Move Order Number 2064428. This is her Replenishment Move Order.

What remains now is to transact this Move Order. Jennifer performs the Move Order transaction and believes that this would result in 100 units of item LD01 being moved from the Stores subinventory to the Floorstock subinventiry. That is precisely what happens.
Jennifer queries the Material Transactions form to find that the Move Order 2064428 had depleted the Stores subinventory and added to the stock in the Floorstock subinventory.
This completes her demo.
Let us view an enhanced version of Jennifer's demo, below.
---
FREE DEMO

: Kanban Replenishment with Move Orders in R12

This is a FREE Download for 30 Days. 
The demo runs with full functionality, for 30 Days from the Date of first use.



Click anywhere on the picture below to download the DEMO.

If you have any technical issues with downloading this demo, do email us atmywords@oracle-apps-training-online.com.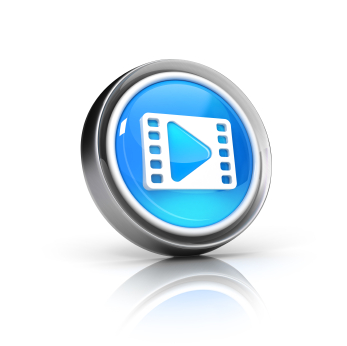 In this demo, we
Define a new Item
Configure the Item for Kanban Planning
Create on-hand balance for the item
Define a Pull Sequence for internal replenishment
Generate and print Kanban Cards
Replenish each Kanban Card
Review Move Orders generated for replenishment of the Kanban cards
Transact move Orders and verify replenishment
Define a Pull Sequence for replenishment from a Supplier
Generate and print Kanban Cards
Replenish each Kanban Card
Process Purchase Requisitions from the interface generated by Kanban Replenishment (and for Kanban Replenishment)
---
Next: The Pick Wave Move Order 
Previous: The Requisition Move Order 
Return to Oracle Inventory from The Replenishment Move Order