Multi Org R12: Part 4
The Story so far…
In creating our multi org R12 setup, we so far

designed the organization structure for our multi org setup
configured the Locations for the inventory organizations in our multi org setup
configured Legal Entities for Office Smart in the US, Canada and in India
configured the Business Groups, one for North America (US and Canada) and one for India
That is what we see here…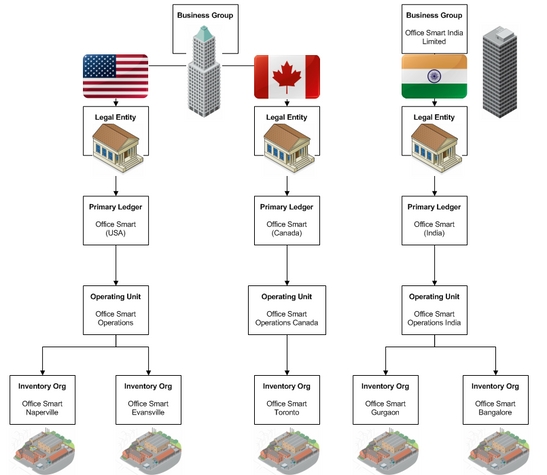 ---
Try This FREE Download First!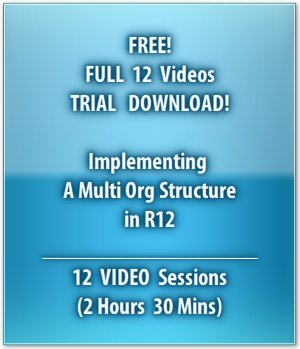 ---
Back to Accounting Setups with the Primary Ledger
Having defined the Business Group, in the previous step of our multi org R12 setup, we re-enter the Accounting Setup Manager. This time, our objective is to create a Primary Ledger under the Legal Entity that we have already defined.
What is a Primary Ledger made of?
A Primary Ledger is the Release 12 avatar of what we knew as the Set of Booksin Release 11i. The Set of Books in 11i was made up of three defining parameters:

Accounting Calendar
Functional Currency
Chart of Accounts
These were referred to as the 3 Cs.
The Primary Ledger maintains these 3 parameters and adds a fourth one – the Subledger Accounting Method. Using this parameter, we can assign a specific accounting method for each ledger.
Ledger Options in the Primary Ledger
Having configured the 4 Cs, for the Primary Ledger, we set out to complete the remaining configurations. The first of these is the Journal processing options for the Ledger. The Primary Ledger needs a Short Name and a Description. We need to specify the First Ever Opened Period for the Accounting Calendar.
The Retained Earnings Account, Suspense Account and Rounding Differences Tracking Account are some of the accounts that should be defined.
Similarly, we may choose to define a Reporting Currency (optional) and Balancing Segment value assignments (optional).
This would pretty much finalize our Primary Ledger Setup.
Office Smart's Primary Ledgers
Office Smart has 3 Legal Entities, one for each of the countries it operates in. This is because Legal Entities are designed to comply with local regulations. On the same lines, it is logical for Office Smart to maintain a Primary Ledger for each of these countries, primarily because of differences in the functional currency.
So, Office Smart creates 3 primary Ledgers, as we see here.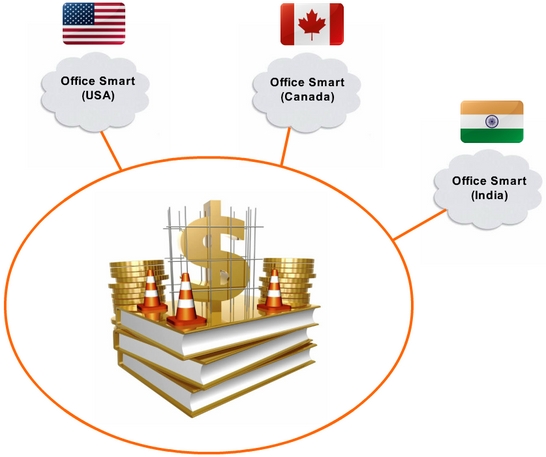 ---
Complete Video Tutorial for Download...
A Step by Step Guide, to Implementing a Multiple Organizations Setup, in Release 12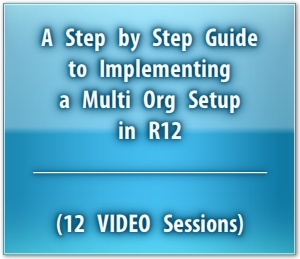 Download DEMO for 45 Days: $19.99
This Audio-Video Demo has 12 Sessions, and plays with full functionality for 45 days, from the date of first use.



By clicking on Add to Cart or View Cart, you accept the Terms and Conditions.
---
Previous: Multi Org Setup: Part 3
Return to Oracle Apps Special Topics from Multi Org R12: Part 4